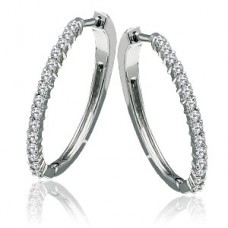 Earrings
$799.00
In Stock | STYLE: 001-150-00046
In Stock
---
Inquire
14KW .25T DIAMOND HOOP EARRINGS SHARED PRONG*Prices are subject to change based on fluctuations in metal prices and currencies
At American Ring Source, we take pride in making a difference.

Our pride stems from supporting local businesses like yourself – the American Independent Retail Jeweler.

Owned by the community's friends and neighbors, generations have trusted you to share in the most significant moments of their lives — Weddings, Birthdays, Anniversaries, Graduations, Mother's Day, and more. As an Independent Jeweler, you have faithfully served your community for years by assisting with the purchase of that special, unique and beautiful item, to convey just the right sentiment for each important occasion.

At American Ring Source (ARS), working with you goes beyond selling jewelry — we work to develop relationships. We care about preserving local character and prosperity. We believe locally-owned businesses help build strong communities and create important social ties. We understand the importance of keeping dollars within your community. And we have understood the importance of social media long before it became an electronic buzzword.